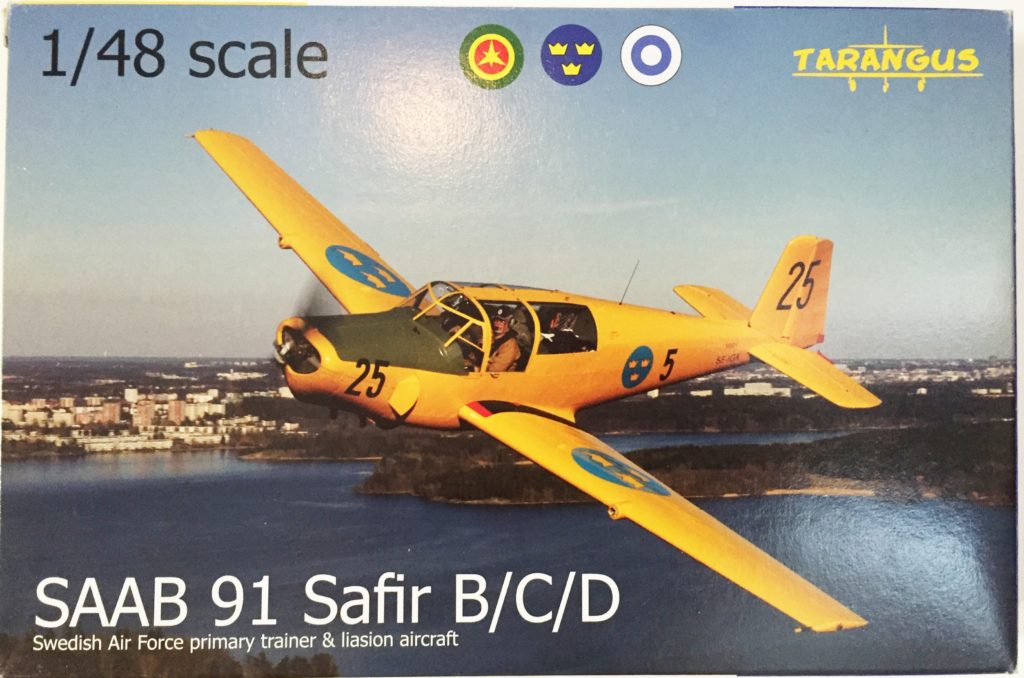 | | |
| --- | --- |
| Brand | Tarangus |
| Scale | 1/48 |
| Manufacturers page | http://www.tarangus.se/ta4804-saab-safir/ |
| Content in box | Instruction sheet, plastic kit on one sprue, and decals for three different individuals (Swedish, Ethiopian and Finnish) |
This is a unique kit as it's the only one of the SAAB 91 Safir in any scale, there used to be a kit from Heller in scale 1/72 but it's not available any more. The Safir was a successful trainer aircraft constructed by Svenska Aeroplanaktiebolaget (Swedish Aeroplane Ltd), shortened SAAB (yes they also went in to car manufacturing), and was used by the Swedish, Norwegian, Finnish, Austrian, Tunisian and Ethiopean air forces and it also became a popular civilian aircraft used by amongst others Air France, Lufthansa and the Dutch Rijksluchtvaartschool.
The box contains the kit (one sprue with parts, two fuselage halves and the cockpit hood), instruction sheet and decals for three versions (Swedish, Ethiopian and Finnish). Just having finished two Eduard kits with detailing extras this feels a bit poor but that's just me.
The instructions are OK but they lack colour references to any colour manufacturer and just specifies colours as e.g. "Dark green" or "Dark green-grey". Reference pictures from the internet is a good resource to try and fix this. Otherwise I found the instructions OK and it's quite clear how you build the two different cockpit layouts depending on which version you choose (the 91B or the 91C/D).
It is a quite simple kit and things like cockpit detailing leaves a few things to wish for. There is a detailing set (etched) available from Maestro Models but I went without that this time. The parts fits reasonably well with a few exceptions. If you build the 91B version you need to shorten the sealing support to fit the cockpit hood. The fuselage need some pressure when the glue dries. The nose cowl is to large and protrude almost a millimetre on each side. The joint between wings and fuselage needs some putty.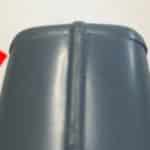 Don't forget that this is a nose wheel aircraft so it needs some weight in the nose not to stand on it's tail. There is a small compartment beneath the engine (which is really just half an engine) that's suitable for this. There's no hint about this in the instructions though which I've gotten used to.
My choice fell on the 91B in yellow finish as this was quite common in Sweden. I started the paint job with a white primer as this makes it easier to get the yellow colour good. I then selected to use Humbrol 69 Gloss Yellow as this saves me the hustle to put gloss varnish on the yellow. Masking that to paint the green anti glare panel in front of the cockpit. I also masked and painted the small rudder trims red as I preferred that to the decals supplied for this.
Next step was the decals. The national insignias lacked the traditional yellow circles as they would be invisible anyway. The decals are good but delicate so handle them with care. They adhered well to the surface without help by a decal solvent of fix.
Next step was to add the details as propeller, landing gear and exhausts. I always do this last when possible as it makes painting easier. Now I discover another problem which has to do with fitting the engine when closing the fuselage, there is no obvious lines in the mould to tell you where to place it and the instructions are not overly clear on this, so I ended up with the engine too far back. I had to carefully dislodge the engine front (not very easy to do), glue the propeller to that and then, carefully, insert the front with glue on and make it stick in a better position.
CONCLUSION
This kit feels dated even though it was released only two years ago. It's a quite simple kit so not hard for a beginner. I'd hoped that the only kit of this widely used aircraft would have been better but still it is better than none. I have to be honest and say that I did not put all my effort into building it but it's hard to find the energy when most of the work would be fixing ailing things with the kit.
| | |
| --- | --- |
| Difficulty* | 2 |
| The good | The only kit available of this plane. The three versions (Swedish, Ethiopian and Finnish) makes a good variety. The decals are good quality. |
| The bad | The kit is what you would expect from a kit some 30-40 years ago but today it's not really up to par, but if you want to build the SAAB Safir this is it. |
*) On a scale 1-5 where 1 is easy and 5 is really hard.